Terms & Conditions
Minimum charge of $69 applies.

Offer is applicable to the first 3 rooms up to 27sqm only.

Offer is not valid in conjunction with any other offer.

Combined lounge/dining rooms will count as 2 separate rooms.

Rooms can each be sized up to 9sqm.

3 seats means 3 sitting positions, not 3 cushions.

Extra charge for stairs, rugs or heavily soiled or stained carpets/fabrics.

A surcharge of 2.5% will apply to card payments.

Bank transfer payments must be completed no later than 48 hours prior to the service's time.

If carpet requires vacuuming prior to cleaning commencing, this is charged at $8.00 per room.

Please vacuum your carpet prior to our arrival to avoid being charged for vacuuming.

Gold Clean service includes vacuuming.

It is customer's responsibility to move furniture where required.

Unfortunately we cannot provide steam cleaning service to apartments and units above ground floor.

24 hours notice is required for cancellation/re-scheduling.

Parking must be available, parking costs to be covered by customer.

Service area is limited to 25km radius of Chirnside Park, outside this area may incur a surcharge. Max 40km radius.

We reserve the right to change the quotation if the property conditions are different to those described or the customer's original requirements are altered.

Running water and electricity must be available within the property where the cleaning service is to be carried out. Failure to provide these is subject to a $50 fee.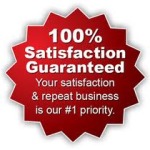 Ultra Clean Melbourne's 100% Satisfaction Guarantee
We offer a 100% satisfaction guarantee. Our goal is to provide you with the most outstanding service experience you have ever received. Based on realistic outcomes, if you are not delighted with the cleaning service experience you receive from us, we will rush back to your location and remedy the situation. You therefore really have nothing to lose when hiring our services. We can make such an offer because we believe in our service. This is an iron clad guarantee provided by a family business that does not hire sub contractors, we care about you and the results we achieve for you.